Formaciones mus.
SENSE OF VALUES QUARTET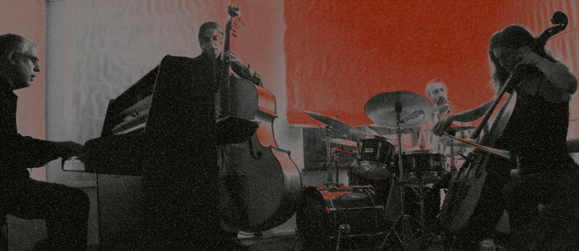 Amalia Chueca_VIOLONCHELO
José Ignacio Hernández_PIANO
Miguel Ángel Pimentel_CONTRABAJO
Julio Pérez_PERCUSION
S.O.V. nos muestra un repertorio personal, además de pasear por el cancionero popular americano desde una íntima perspectiva. Pretende evocar un nuevo universo apoyado en los standard clásicos y más modernos de dicho cancionero en un amplio abanico que abarca desde el Swing al Free pasando por el Bebop o el Jazz modal.
Teniendo el grupo aproximadamente un año de vigencia, ha tocado en diversos locales de la geografía española, tras la experiencia mantenida por sus miembros en Nueva York, ciudad en la que todos ellos estuvieron experimentando y tocando.
Fruto del amaderado y cálido sonido del chelo y de un clásico trío de jazz -piano, contrabajo y batería- aparece Sense of Values. S.O.V. busca crear atmosferas y sonoridades desde el pulso, la contundencia, construyendo e interpretando armonías donde la improvisación es el denominador común. Todo ello partiendo de sonidos acústicos, clásicos de alguna manera y yendo a rincones hasta donde la imaginación del oyente le lleve.
Aportando también las composiciones del pianista Jose Ignacio Hernández, Sense of Values está formado además por el contrabajista Miguel ¡gel Pimentel, el batería Julio Pérez  junto a la chelista Amalia Chueca. La formación del grupo es versatil. Aunque todos se mueven en el terreno del Jazz, también exploran o exploraron otros campos como el acompanamiento de cine mudo en el caso de José Ignacio, la música Arábigo- Andalusí o el Flamenco en Miguel Ángel o la música clásica y contemporánea por parte de Amalia. Julio Pérez toca un amplio elenco de estilos tras una dilatada carrera profesional.
A través del nuevo disco Atmosphere, Sense of Values toca obras de artistas consagrados como Monk o McCoy, standards clásicos y repertorio personal. Este disco se grabó el 2, 3 y 4 de Enero del 2013 en Granada. Fue mezclado y martirizado entre Enero y Febrero del 2013 gracias al ingeniero de sonido Fernando Romero en F.J.R. Estudios de Grabación.
Con Sense of Values Quartet en el proyecto Atmosphere. 2013
SENSE OF VALUES QUARTET «ATMOSPHERES». Grabado el 2,3 y 4 de Enero del 2013. Mezclado y masterizado entre Enero y Febrero del 2013 en FJR Estudios de Grabación (Granada).
1. In the C atmosphere (José Ignacio Hernández)
2. 4 muleros (Popular)
3. Song for my lady (McCoy Tyner)
4. You and the night and the music (Arthur Schwartz)
5. Hackensack (Thelonious Monk)
6. Jaleo (Popular)
7. Vous dit (José Ignacio Hernández)
8. Pinocchio (Wayne Shorter)
9. Stormy weather (Harold Arlen)
10. You go to my head (J.Fred Coots)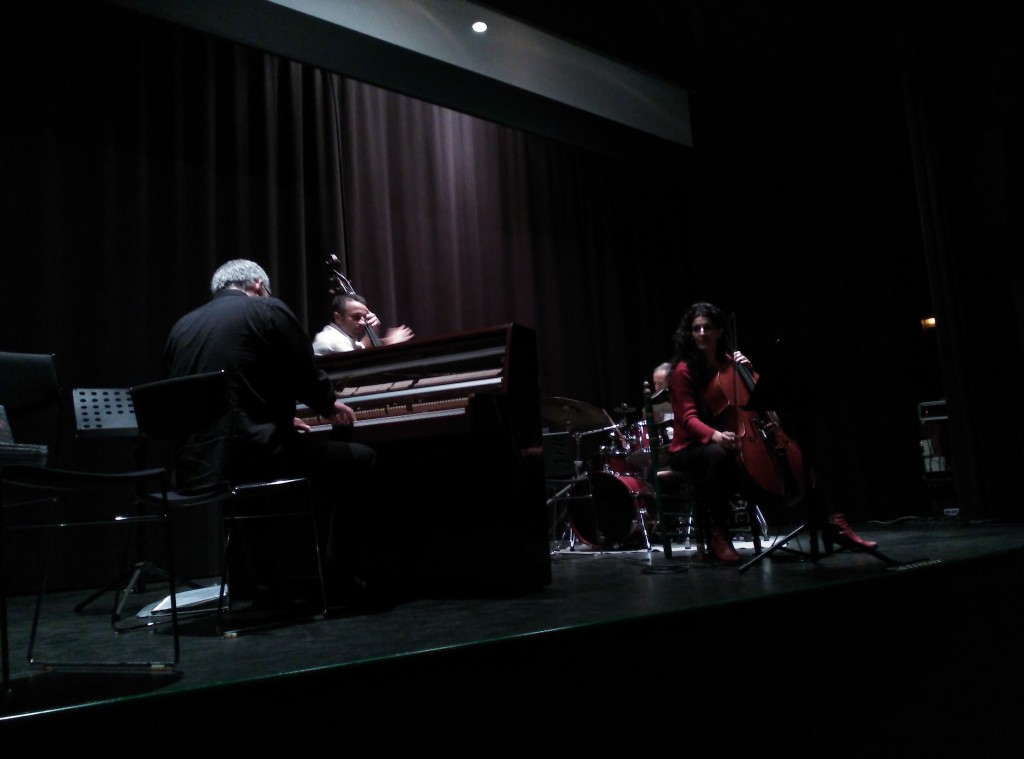 The quartet Sense of Values was born with the idea of widening the Jazz sphere to include new groups with unconventional Jazz instruments like the cello and other strings, be them bowed, plucked, or struck. 
They aim to evoke a new era of Jazz combining classical elements with popular contemporary American music. This wide range of styles is compromised of everything from Swing to Free to Bebop to Modal jazz. Playing for a year, the band has played in many places in Spain, after their experience in New York, playing and having many experiences.
Sense of Values is a versatile grouped formed by double bassist Miguel Ángel Pimentel, cellist Amalia Chueca, Julio Pérez with the drums and playing to compositions of pianist Jose Ignacio Hernández. Together they strive to create a platform where all styles of improvisation are accepted.
Although all of its musicians work within the domain of Jazz, they all explore or have explored subgenres of music like Silent movie accompaniment in the case of José Ignacio, Flamenco in the case of Miguel Ángel and classical and contemporary for Amalia Chueca. Julio Pérez has been playing a wide range of improvisation styles.
Working together for a year, Sense of Values has played in many venues throughout Spain. In its search for musical enrichment, Sense of Values remains open to all sorts of musical genres, looking for new and coloristic sounds.
Recently, they have a new cd, Atmosphere. We can listen to Monk and McCoy songs, classic standards and personal repertoire. It was record in 2013 on January in Granada. It was mixed between January and February in F.J.R. Studio recording with Fernando Romero.
AMALIA CHUECA DUO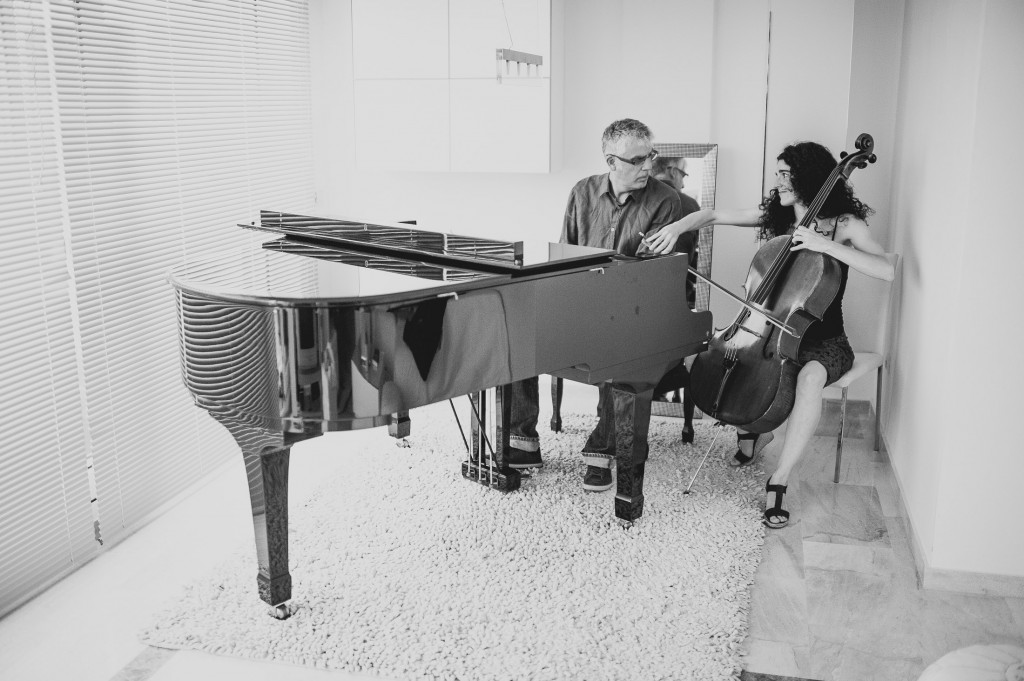 AMALIA CHUECA DÚO SON:
Amalia Chueca
José Ignacio Hernández
A través de la exploración de la historia del Jazz teniendo como punto de partida  las baladas, Amalia Chueca y José Ignacio Hernández  pretenden evocar un mundo de armonías y colores que reflejen la tristeza, la nostalgia o por qué no, la alegría contenida de melodías bellas, quietas, calmadas que inducen a pensar o meditar sobre el pasado, el presente y el futuro. El repertorio nos lleva desde Ellington hasta Shorter, pasando por músicos de la talla de Monk, J. Fred Coots u otros.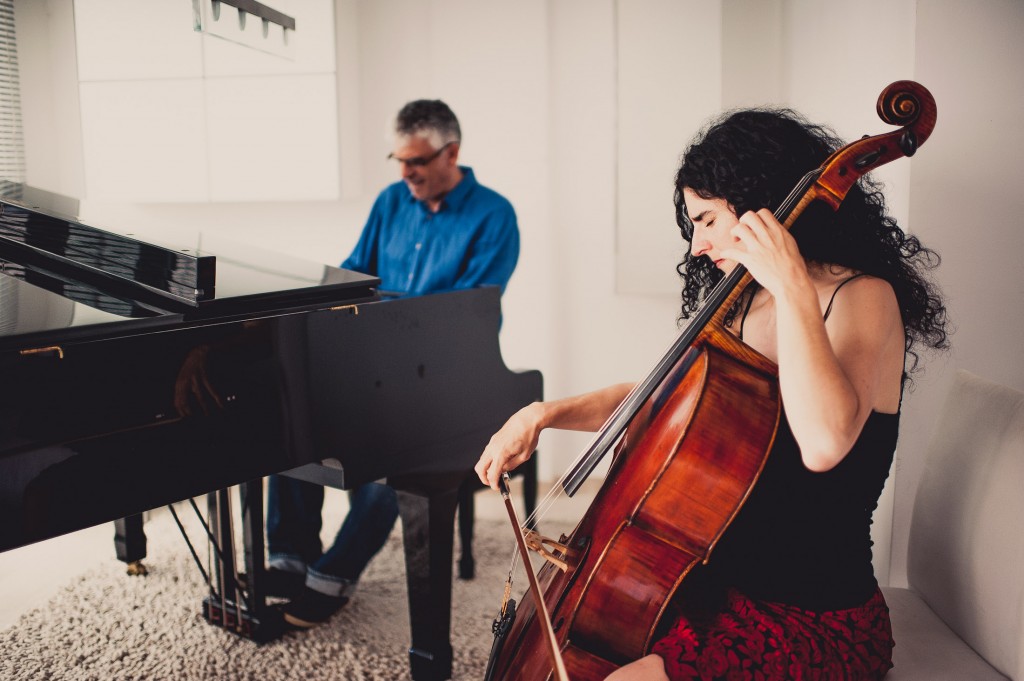 Through the reconnaissance of the jazz world and having as a point of view the ballads, Amalia Chueca and José Ignacio Hernández try to evoke a whole word of armonies and colors that reflect  sadness, nostalgia and why not, the happiness. They comes through beautiful, quiet, calm melodies that encourage to think about the past, the present or the future. The repertoire goes from Ellington to Shorter, Monk or J. Fred Coots and so on.
Watch the video Amalia Chueca Duet in Audio and video
JOHN EHLIS QUARTET
JOHN EHLIS QUARTET
Eloisa Manera (violin)
Amalia Lopez Chueca (cello)
John Ehlis (guitar/mandolin)
Chris White III (percussion)
Estos curiosos artistas poseen una facilidad natural tocando juntos. Viajando en terrenos originales, forman un grupo que producen una considerable impresión.Unidos por un amplio abanico de intereses, estos espíritus amables crean un sonido fresco sin imitaciones. Es electrizante, la instrumentación es única, rica y plena, y la música va desde simples melodías a las áreas de sonido de los instrumentos menos definidas. La orquesta de las sesiones en el Stone de Karl Berger en el verano del 2011 aportaron un terreno de conocimiento para muchos músicos, incluyendo a Manera, Chueca y Ehlis. Este cuarteto surgió de los conciertos /sesiones de música del Stone y en otros sitios ese verano y durante el verano del 2012.
Asentada en Milán, Italia, la violinista Eloisa Manera, aparece en una ámplia variedad de acontecimientos musicales. De herencia italiana y española, esta siempre expandiendo sus talento para ganar en dominio de una variedad de estilos, culturas y disciplinas, tanto en formatos tradicionales como modernos. Este resurgir de su espíritu creativo ha ocurrido en años reciente y es un resultado directo de su búsqueda y descubrimientos  en la improvisación, sobre todo en el idioma jazzístico.
La chelista Amalia Chueca, de Granada, España, ha tocado con varias orquestas y cuartetos clásicos a través de España y Europa. Igualmente versada en música clásica e improvisada, ha interpretado en Europa en numerosas actuaciones. Es un miembro de la Dubidubi Band dirigida por el saxofonista Paul Stocker y del trío de Jazz «Sense of Values» junto al pianista José Ignacio Hernández, el contrabajista Miguel Ángel Pimentel y el batería Julio Pérez. Su estilo es definido por la fusión del Flamenco y las traciones de Jazz y latinas.
John Ehlis es un guitarrista, multi-instrumentista, compositor y lider de la formación de John Ehlis. Originario de California pero residente actualmente en la costa Este, el trae la profundidad de espíritu a sus empresas musicales con composiciones originales atrayentes y de gran inventiva.
Desde la grandiosa ciudad de Nueva York, Chris White III es un percusionista, bailarín, profesor, artista y músico de danza moderna, que ha interpretado con Q-Tip ( A Tribe Called Quest), Yasiin Bey aka Mos Def, el bailarín de tap d Maurice Chesnut, e percusionista Rudy Walker y su padre, el bajista Chris White. El aparece en la grabación ¨Jungli¨de Tasneem Nanji, ¨The War in Me¨
These curious artists possess a natural ease of playing together.  Travelling in the fields of originality, they form a group which makes a remarkable impression.
Joined together by wide range of interests, these kindred spirits create a fresh sound without mimicking styles. This group is electrifying, the instrumentation is unique, rich and full, and the music ranges from simple melodies to the less charted sonic areas of the instruments.
Karl Berger's Stone Workshop Orchestra in the summer of 2011 provided a meeting ground for many musicians, including Manera, Chueca and Ehlis.  This Quartet grew out of the music sessions/concerts held at the Stone and elsewhere that summer and during the summer of 2012.
Based in Milan, Italy, violinist Eloisa Manera, appears in a wide array of musical environments.  Of Italian and Spanish heritage, she is ever expanding her talents to gain command of a variety of styles, cultures and disciplines, both in traditional and modern formats.  This blossoming of her creative spirit has occurred in recent years and is a direct result of her pursuit and discoveries in improvisation, primarily within the jazz idiom.
Cellist Amalia Chueca, from Granada, Spain, has played with several classical orchestras and quartets throughout Spain and Europe.  Equally versed in both classical and improvised music, she has performed across Europe in numerous settings.  She is a member of saxophonist Paul Stockers' "Dubidubi Band" and the jazz trio, "Sense of Values" along with pianist José Ignacio Hernández, bassist Miguel Ángel Pimentel and percussionist Julio Pérez .  Her style is defined by the merging of Flamenco, Latin and Jazz traditions.
John Ehlis is a guitarist, multi-instrumentalist, composer and leader of the John Ehlis Ensemble.  Originally from California, but currently on the East Coast, he brings a depth of spirit to his musical endeavors with original compositions that are both appealing and inventive.
From the greater New York City region, Chris White III is a percussionist, dancer, teacher, artist, and modern dance musician, who has performed with Q-Tip (A Tribe Called Quest), Yasiin Bey aka Mos Def, tap dancer Maurice Chestnut, drummer Rudy Walker and his father, bassist Chris White.  He appears on Tasneem Nanji's "Jungli" EP recording, "The War In Me".
KARL BERGER'S STONE WORKSHOP ORCHESTRA
Amalia ha colaborado en la orquesta de Karl Berger en el Stone de Nueva York (Véase video)
Amalia has played with karl Berger`s Stone Workshop Orchestra (Watch the video)
AMALIA CHUECA EN SOLITARIO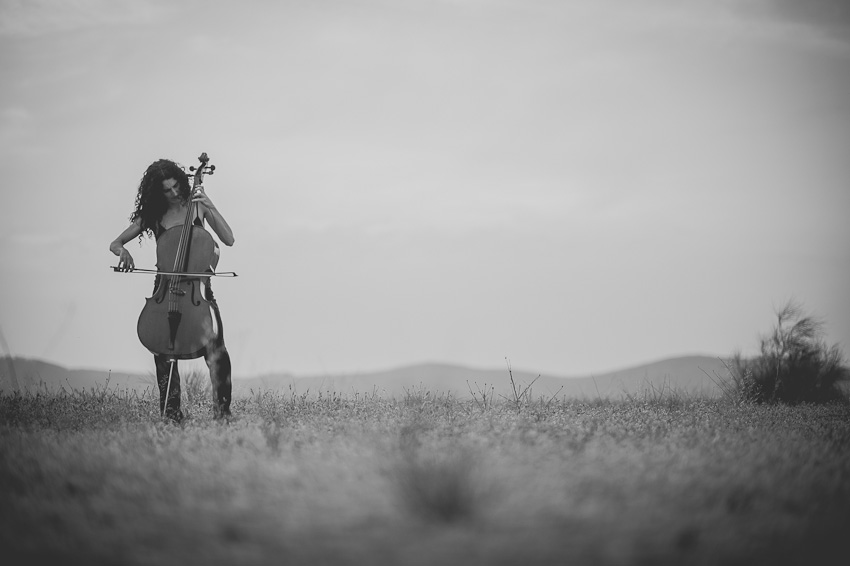 Ha compuesto un ciclo de composiciones basadas en estados atmosféricos, ambientales o emocionales inspirados en imágenes, sonidos o ideas. Parte de ellos son presentados sobre imagen aunque todos tienen un carácter claramente descriptivo.Para su composición utilizó sonidos electrónicos, pregrabados y otros acústicos como su voz y el violonchelo, así como la participación de músicos como el pianista Jose Ignacio Hernández.
Los temas  tienen títulos muy descriptivos, expresando pensamientos, sentimientos y sensaciones, ayudados por sonidos pregrabados que ayudan a la ambientación como el sonido del aire y el canto árabe en  Aire, la tormenta o el murmullo de gente charlando en Pregunta incuestionable, el agua en Realidad: Paraiso o Infierno, el sonido de un electrocardiograma en Jacaranda o la muerte, etc.  Otras como La danza de Mesalina (de corte dodecafónico) o Intromisión (politonal) experimentan en distintas técnicas compositivas.
Véase el video Agua en Audio y video.
She has composed  a group of compositions based in weather, feelings or atmospheres that are inspired in images, sounds or ideas. Some of them are arranged with images although all of them are very descriptive. In order to compose them, she used electronic and acoustic sounds recorded as her voice or cello sound. She invited different musicians to play. An example is José Ignacio Hernández with the piano.
The names of the songs are very descriptive, as I said before, related to several feelings, emotions or thoughts. For instance, you can hear arabic singers in Air or storms, people chatting in The Unanswered questions, water sound in Reality: Paradise of  Hell, the electrocardiogram sound in Jacaranda or the dead and so on. Others like The Mesaline dance (dodecaphonic song) or Interference (polytonal) experiment different compositive styles.
Watch the video Agua in Audio and video
 DUBI DUBI BAND
En este segundo trabajo discográfico, la Dubi Dubi Band hace un recorrido por diversos lugares del planeta, interpretando e inspirándose en músicas folclóricas de Africa, América y Medio Oriente.
Bajo la peculiar dirección de Paul Stocker, esta gran orquesta creativa mixta, con voz, cuerdas, vientos y sección rítmica, siempre ha dado, en sus 9 años de vida, una gran importancia a la improvisación y la espontaneidad. Ésto hace que cada concierto sea diferente y sorprendente incluso para sus propios integrantes. El título del nuevo disco, "Lejos", refleja el largo camino que ha recorrido hasta la fecha, así como el trayecto a seguir y a donde quieren llegar.
With two recordings, the Dubidubiband plays music from different places of the world, playing and inspiring in folk music from Africa, America and the East.
Under Paul Stocker, the leader, this big orchestra with voice, strings, winds and rhythmic section, has always focused in  nine years in the improvisation and spontaneity. Because of this, each concert is different and amazing including their own musicians. In the second recording, «Far», it shows it improvement.